Ohashi Technica combines two functions: one is the organization of subcontractors, and the other is original technical development and manufacturing. This combination makes it possible to develop the technology to answer all kinds of needs. It also allows Ohashi Technica to stably supply customers with a package of high performance, high quality, and low cost.
Organization of subcontractors
We organize approximately 300 subcontractors, covering a wide range of products and technical fields.
Original technical development/manufacturing
Our function of technical development/manufacturing enables us to offer subcontractors and customers the ideal and best technology.
Products that look the same at a glance are supported by new technology that optimizes manufacturing processes and process streamlining that reduces costs and improves quality. As far as our customers are concerned, this is the most important kind of value improvement.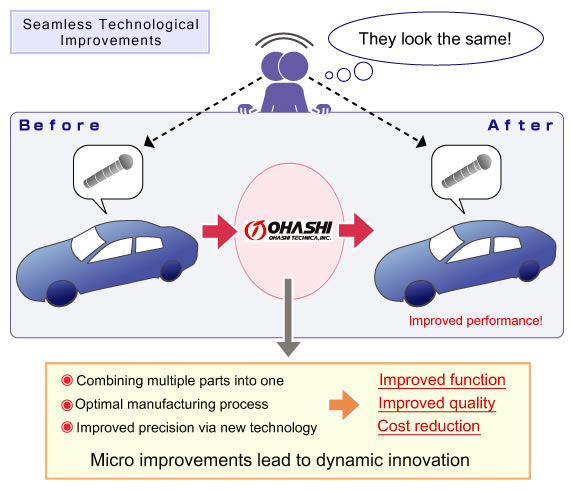 To produce precise parts, we possess precision processing technology in a wide range of fields, including forge processing, heading processing press processing, cutting and grinding, and resin molding. Our outstanding strength in technical development allows us to reduce costs, improve function, and enhance environmental characteristics.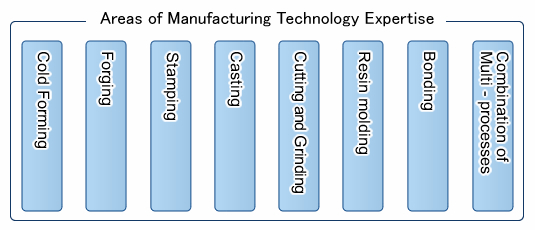 We have developed an original welding technology called pressure projection welding.
The technology applies pressure to the materials to be processed, uses electrodes to apply current, and uses the pressure and resistance heat to join parts. (This is known as solid-state diffusion welding.) The joints are strong, and the auto parts produced are high-performance, high-quality, and low-cost.
This technology is used by almost all of the major auto manufacturers in parts such as comprise auto transmission and engine control equipment. We have 12 Japanese patents on the pressure projection welding technology that we have developed.